Designed for living Engineered to Last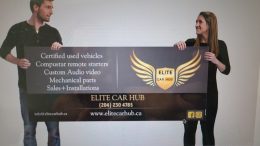 ---
Based out of Winnipeg Manitoba
Some say a vehicle is just a machine. We disagree. A car ,truck , motorcycle, boat or Semi truck is a pure expression. We live in Winnipeg,Manitoba . Where the car culture is strong and we constantly rediscover new lines, creases, and curves. We cultivate an appreciation for all elements of vehicles, because they are, after all, an art form.
You revved for this, didn't you? Whether you love supercars, luxury cars, motorcycles ,vintage cars,Trucks ,Semi-trucks or Boats , We know your type. We at Elitecarhub take pride in offering wide variety of Services in Every 12 volt vehicle Electronics.
That could be GPS or fleet Gps , Compustar Remote starters , Audio & video , Dash cameras, Dual front or Rear cameras , custom lights Any Offroad uses Anything with a battery we can assist our service to .
Fully certified Insured shop, we are located on Centreport – Route 90( brookside Blvd ) Next to Esso Card-lock .
Google us : Elitecarhub for Exact 📌 location!
Winnipeg winters can be harsh , we do have extreme weather conditions.
When there's no other place you'd rather be than inside your warm vehicle , Either it's in the morning or after work , starting your vehicle with Compustar remote starters not only warms your vehicle engine but also saves you fuel with our Phone based app or Lcd remote starters you can see the temperature inside your vehicle , Live on your smart app on the phone or via Lcd screen. Once up to your desired temperature shut the vehicle off !
All Lcd remote starters come with minimal approx: 1km range !
phone app based remote starters are unlimited range any where on earth Wow , great if you live in high rise buildings, or park far (Please check more detailed information under Remote starter & packages )
it's simple as that .
This is not a hobby, it's a lifestyle.
Why suffer in winter months or even in Hot summer days.
Turn on that Air-conditioner Specially if you have pets (pets love this feature).
Enjoy what the 21st century has to offer you !
I the Owner of Elitecarhub INC My name is Taj jawanda ,since I can remember, I have been a Car guy with engineering background in Aviation & Power Eng. I'm glad to offer you a service that will last long time , High standards when you come to my shop , my technical Team is well experienced with over 10 years experience .

Trustworthy, Honesty is must !
Did you know Elitecarhub also ships Any parts Canada Wide , yes you can simply place an order on our website we deliver Canada Wide ! Via FedEx
Elitecarhub is an Authorized Compustar dealer & MPI accredited Used Dealership
Servicing Winnipeg & surroundings for past 11 years .
we are actively posting on social media for our services , projects , and deals
please follow us Elitecarhub : Google ,Instagram, Facebook & Tik-tok for our past and current projects .
Join thousands of like minds