Description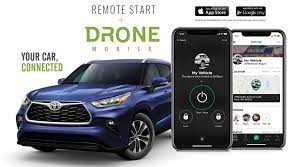 ELITECARHUB NOW INSTALLS REMOTE STARTERS IN :   ANY VEHICLE WITH 12 VOLT BATTERY !
FOR PRICING CALL OR TEXT US: (204) 230-4785
MAKE YOUR CAR SMARTER: Remote Start, Lock and unlock your car from anywhere in the World ! Pin point Gps locations as well !
APP BASED NO REMOTE FOBS NEEDED , CHECK ENGINE DIAGNOSTICS , BATTERY VOLTAGE & INTERIOR TEMPERATURE SENSOR INCLUDED !
MAKE YOUR CAR SMARTER: Remote Start, Lock and unlock your car from anywhere!
Drone-Mobile is the award-winning smartphone solution for staying connected to your vehicle from anywhere in the world. Using the Drone-Mobile app (for Apple and Android products), you can lock your doors, remote start your engine, and even track your vehicle's exact location.
DRONEMOBILE X1, 1 MONTH FREE PREMIUM INCLUDED!
Luxury ,diesel, hybrid ,manual transmission vehicles extra labour charges apply Inquire: (204) 230-4785
MAKE YOUR CAR SMARTER:
Powered by AT&T, Rogers, Bell and Telus
LTE telematics w/3G fallback
Unlimited range vehicle control
Includes module and harness
Compatible with all Firstech, iDatalink and iDatastart Controllers
Premium GPS Tracking features including GPS car finder, speed monitoring, points of interest, geofences, maintenance reminders, and more!
FEATURES:
Smartphone Control: Start and secure your car from your smartphone.
NEW DRONEMOBILE APP 4.0
In the new DroneMobile app, your new home screen is a customizable dashboard to show you what matters to you.
Simple Control: Locking your doors and remote starting your vehicle has never been easier and faster. The new DroneMobile app presents a control interface that is accessible from nearly anywhere within the application.
Family Sharing: The new DroneMobile app now features Family Sharing, which allows you and your family members to have separate logins but shared access to the same vehicles.
Set Custom Alerts: You don't have to login to our desktop portal anymore to update your geofence, speeding, and curfew preferences. These are now all updatable within the app.
NEW DRONEMOBILE APP 4.0 FEATURES
Widget vehicle control
Siri/Google Assistant voice-control keyless entry
Remote start
Remote start shutdown
Interior Temperature sensor
Keyless entry
Trunk release
Security system activation/deactivation
2 Customizable auxiliary functions
GPS tracking
Push notifications for security alerts
Regular maintenance reminders
Low car battery alerts
Check engine light
Geofence and curfew alerts for driver monitoring
Speeding alerts for driver safety
GPS Tracking: Located your vehicle using DroneMobile maps.
Alarm Alerts: Receive instant alerts if your alarm is triggered.
Speed Tracking: Get speeding alerts pushed to your smartphone.
Unlimited Range: Stay connected to your car from virtually anywhere.
Points of Interest: Receive alerts when exiting/entering an area.
Vehicle Status: Check your door locks, temperature voltage and more!
Features for Business: Advanced tracking features for small fleets!
VISIT: https://www.dronemobile.com